News Release
11
09Month
2023
CIMC-built IKEA Foshan Logistics Distribution Center Project Officially Put into Operation - Quality and Efficiency Improvement in Home Furnishing Logistics is Underway
Recently, the IKEA Foshan Logistics Distribution Center, constructed by Shenzhen CIMC TianDa Logistics Systems Engineering Co., Ltd. ("CIMC TianDa Logistics"), has been put into operation. The center has become the new "frontrunner" of the modern logistics industry in Foshan City, Guangdong Province, which represents that the automated three-dimensional warehouse, independently developed and built by CIMC TianDa Logistics, has been officially put into operation, ushering in another new milestone in the field of intelligent logistics in China.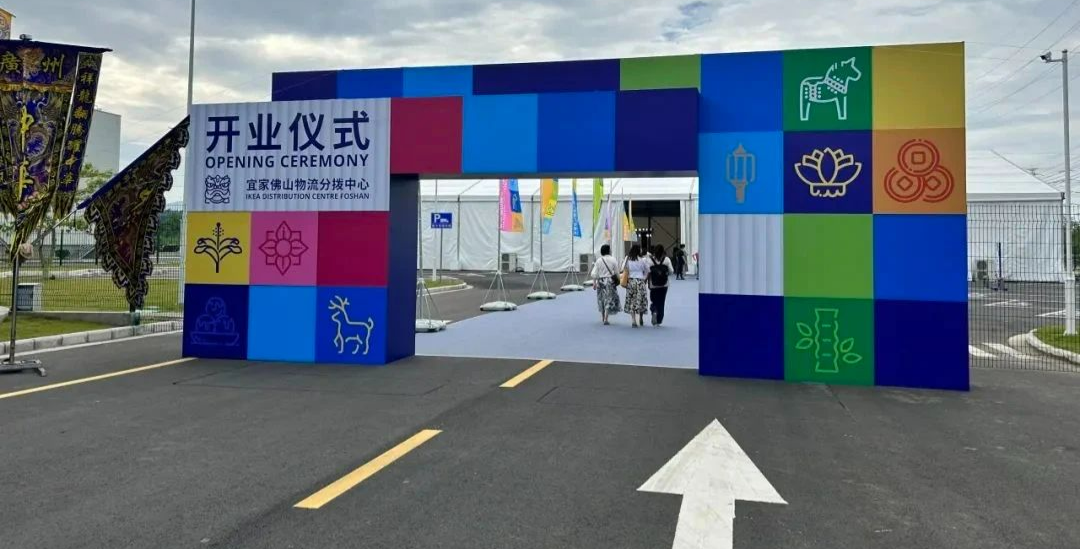 It is understood that the automated three-dimensional warehouse, built by CIMC TianDa Logistics, will provide replenishment services for nine IKEA stores in southern China relying on advanced information technology and intelligent equipment, thus shortening the goods delivery time, improving the supply capability and helping the cost reduction and efficiency improvement for modern logistics services.
In order to effectively enhance the space utilization rate for the limited area, CIMC TianDa Logistics planned and constructed a nearly 40-meter-high automated three-dimensional warehouse for the project, equipped with more than 100,000 storage spaces and 14 sets of nearly 40-meter ultra-high-speed stacker cranes that run 240 meters per minute. It has also adopted a multi-depth storage mode to maximize the storage efficiency as well as the space utilization rate, meeting the storage requirements for products of extra-large volume and multi-specifications.
In addition, the WMS and MFC systems, independently developed by CIMC, are also widely used in warehousing management. The warehousing control system integrates functions of visualization operation, logistics, informatization, statistics and file archiving, so that the whole process of logistics information from purchase to warehousing to sales becomes systematic and transparent. The system will effectively control and track the whole process of logistics and cost management of warehousing business through the integrated use of inbound warehousing, outbound delivery, warehouse transfer, inventory transfer and other functions.
As a professional company engaging in intelligent warehousing and logistics system integration and digital project delivery, CIMC TianDa Logistics, a subsidiary of CIMC, has realized the whole process automation from unloading, transmission, sorting, storage, selection, assembling to loading by means of intelligent warehousing solutions, intelligent transmission solutions, intelligent sorting solutions, and so on. By responding to diversified market demands with faster and high-quality services and promoting the intelligent upgrading of the logistics and warehousing industries, CIMC TianDa Logistics has become a one-stop system integrator for project delivery and turnkey project from planning, design and research, production and manufacture, installation, commissioning to after-sales service.