News Release
07
09Month
2023
CIMC Signed a Strategic Cooperation Agreement with Kunming Municipal Government
On 7 September, CIMC signed a strategic cooperation agreement with Kunming Municipal Government, pursuant to which, both parties will capitalize on their respective advantages in industry, location conditions and other aspects, and develop down-to-earth cooperation in the sectors such as logistics channels development, logistics services, industrial park development, ecological reconstruction of supply chain for agricultural products, intelligent equipment, clean energy and industry capital.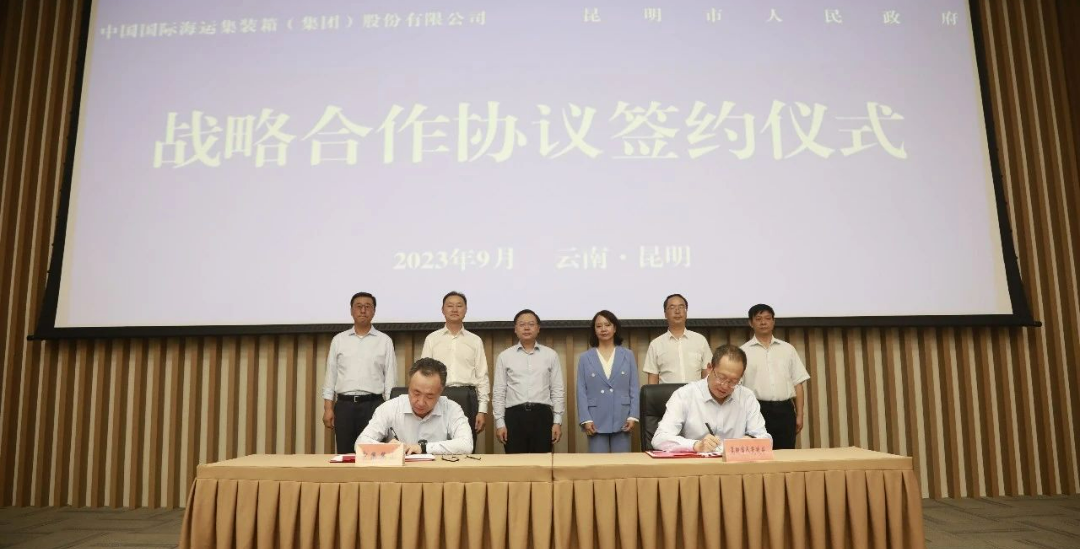 Also, CIMC Wetrans Logistics Technology (Group) Company Limited ("CIMC Wetrans"), a subsidiary of CIMC, signed a cooperation framework agreement with Kunming Economic and Technological Development Zone Management Committee, China-Lao Mohan-Boten Economic Cooperation Zone Management Committee, and Yunnan Investment Holding Group Co., Ltd.
On that day, the main responsible persons of the Strategic Development Department of CIMC, CIMC Wetrans, CIMC Vehicle Industrial Park, Kunming Investment Promotion Bureau, Kunming Economic and Technological Development Zone, Kunming Municipal Commission of Development and Reform, Yunnan Investment Group, Mohan-Boten Economic Cooperation Zone attended the signing ceremony.
Kunming is strategically located at the junction of the China-ASEAN Free Trade Area, the Lancang-mekong Cooperation Region and the Pan-Pearl River Delta Economic Circle, being China's frontier and an important gateway to South Asia, Southeast Asia and even to the Middle East, South Europe and Africa.
Pursuant to the agreement, CIMC will take Kunming City as the key area for the strategic layout of its domestic business, and build an integrated logistics hub project for highway and railway multimodal transportation at the Mohan port and other relevant core railway stations in Kunming.
The execution of this cooperation agreement will further implement the multi-level and multi-faceted cooperation projects between CIMC and Kunming Municipal Government, promoting CIMC's investment and business expansion in Kunming with a strategic layout featuring high starting point, high standard and high quality, and facilitating the high-quality development of industries and urban areas in Kunming City, so as to realize mutual advantage complementarity and win-win cooperation.