News Release
07
08Month
2023
CIMC Participated in the Construction of the First "Multi-storey Structure + Intelligent" International Air Cargo Terminal in China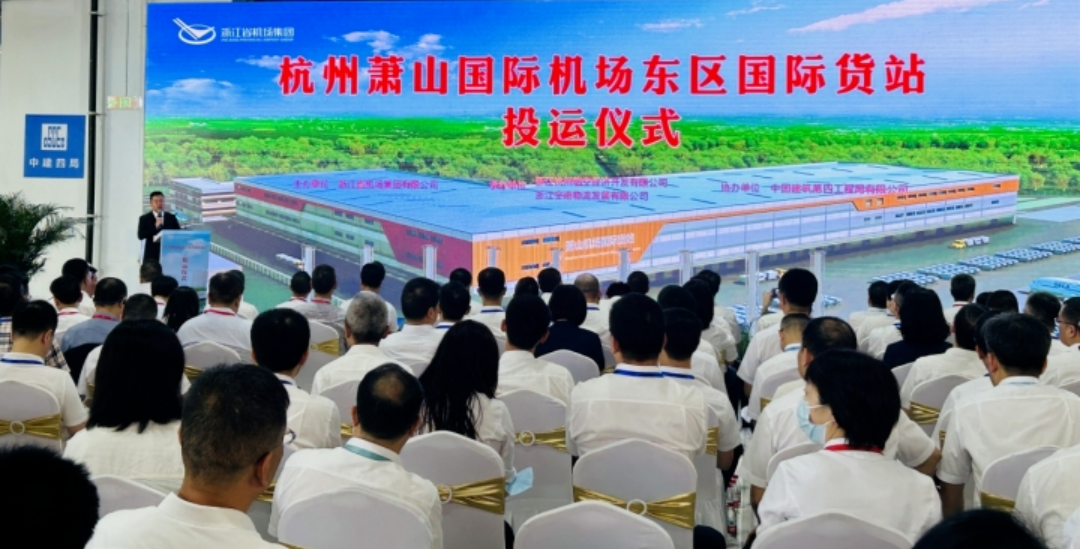 On 31 July, with the project of Hangzhou Xiaoshan Airport East International Cargo Terminal passing the inspection and acceptance of the East China Regional Administration of the Civil Aviation Administration of China, Hangzhou Customs issued the "Certificate of Registration of Customs-supervision Workplaces" to Zhejiang Airport Logistics Development Co., Ltd., and the first "multi-storey structure + intelligent" international air cargo terminal in China, namely Hangzhou Xiaoshan Airport East International Cargo Terminal is put into operation, which was built by Shenzhen CIMC TianDa Logistics Systems Engineering Co., Ltd. (hereinafter referred to as "CIMC TianDa Logistics"), a subsidiary of CIMC-TianDa Holdings, and CIMC Deli Logistics System (Suzhou) Co., Ltd.( hereinafter referred to as "CIMC Deli").
The operation marks the Hangzhou aviation port infrastructure to achieve the "upgrading with capacity", and China (Zhejiang) Pilot Free Trade Zone Hangzhou Area also has a new more platform for opening up. As a result, Hangzhou Xiaoshan Airport has pressed the "accelerator button" for the "passenger and cargo" dual-wheel driven development of opening up.
Hangzhou Xiaoshan Airport East International Cargo Terminal is a key project in Zhejiang Province and an Asian Games support project, with a total investment of RMB1.489 billion. With an overall design of three-storey structure for the public cargo terminals, express/cross-border center and the freight forwarding area, respectively, it is mainly involved in the handling of international general cargo, express parcels, cross-border e-commerce parcels, mails and refrigeration and preservation, valuables, animals, and other special goods.
In addition to the main cargo terminal, the international air cargo terminal is equipped with related facilities such as a vehicle platform, a complex business building, a customs inspection center, a special transport warehouse, a customs checkpoint and an airside management room.
The completed Hangzhou Xiaoshan Airport East International Cargo Terminal applies digital logistics solutions and has invested in intelligent equipment such as ULD hoist, swing tray elevator, AGV unmanned forklift, ETV three-dimensional racks, customs inspection and sorting lines, security check return lines, etc., as well as a number of automated and informatized integrated cargo handling systems and bulk handling systems, which make the logistics operation of the airports more accurate, efficient and personalized.
Over the years, CIMC TianDa Logistics has continuously innovated and explored the intelligent upgrading of airports and logistics equipment technology, has promoted the realization of logistics automation, and has actively built a new mode of intelligent warehousing. At present, CIMC TianDa Logistics is leading the industry in the scale of logistics automation business in China, and maintains rapid growth. As a local enterprise in Shenzhen, CIMC TianDa Logistics has long incorporated the "innovation" gene into its development "bloodline". In the future, CIMC TianDa Logistics will continue to adhere to scientific and technological innovation to promote the development of the company, and increase product innovation and research and development with customer demand as the core to promote the high-quality development of the manufacturing industry.
CIMC Deli, a subsidiary of CIMC-TianDa Holdings, was founded in 1979 and joined CIMC in 2014, becoming a wholly-owned subsidiary of CIMC since then. CIMC Deli has been involved in the field of intelligent logistics equipment since 1992, and has laid a solid foundation by starting with the projects of logistics transport and warehouse-building in airports. After decades of operation and continuous innovation, it has become one of the most powerful solution providers, system integrators and equipment suppliers in the field of automated logistics systems at home and abroad.