News Release
02
08Month
2023
CIMC Enric Made Significant Breakthrough in Technological Research, Which Will Result in a Significant Reduction in the Construction Cost of Hydrogen Refuelling Stations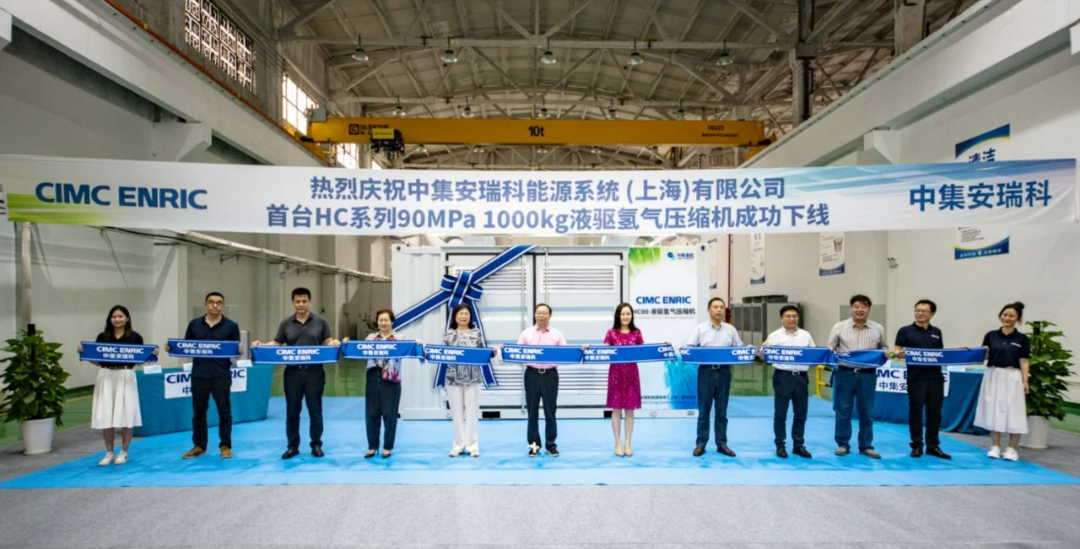 Recently, CIMC Enric announced that the self-developed 90MPa/1000kg liquid-driven compressor and 45MPa diaphragm compressor for hydrogen refuelling stations have been successfully launched.
Hydrogen compressor is the core equipment for the construction of hydrogen refuelling station. The technological breakthrough marks a significant achievement in the layout of key equipment for the whole hydrogen energy industry chain of CIMC Enric. Accelerating the localization of hydrogen compressors will bring about a significant reduction in the construction cost of hydrogen refuelling stations, which is of milestone significance in advancing the construction of hydrogen refuelling stations and reducing the cost of hydrogen energy application, and further strengthens CIMC Enric's technological advantages in the field of hydrogen energy.
The 90MPa/1000kg portable hydrogen compressor, launched at CIMC Hydrogen Energy Shanghai Equipment Manufacturing Base, was developed and designed by CIMC Enric Energy Systems (Shanghai) Co., Ltd.
The compressor has been optimized in terms of hydrogen-related materials, frequent self start-stop, etc. In particular, the equipment adopts a modular design, which allows the replacement, upgrading and maintenance of a certain functional module individually, providing a high degree of flexibility. It is also significantly integrated, reducing the number of compressor connection lines and leakage points, as well as the equipment footprint, which also reduces equipment production lead times and manufacturing costs. The product performance and specifications of the liquid-driven compressor have reached the international advanced level, which can meet the multi-applications of hydrogen production, storage and transportation, hydrogen refuelling and hydrogen use in China.
The 45MPa diaphragm compressor, launched at CIMC Hydrogen Energy Bengbu Equipment Manufacturing Base, was developed and designed by Enric (Bengbu) Compressor Co., Ltd. In addition to the characteristics of efficient cooling and energy saving, low exhaust temperature, large flow capacity, safety and reliability, intelligence, etc., it can also realise on-line monitoring and on-line diagnosis of the product's pressure, temperature and other performance parameters in real time through the Internet of Things technology, which achieves zero-distance communication and service with end customers, and can effectively guarantee the safe and smooth operation of the units at the site.
As a leading supplier of key equipment and solutions for the whole hydrogen energy industry chain in the industry, CIMC Hydrogen Energy will continue to strengthen technological innovation and investment in research and development to promote the upgrading and optimisation of key equipment. Through constantly adjustment of the product structure, it can quickly adapt to the changes in market demand, and provide customers with more professional, economical and efficient hydrogen energy solutions, helping to achieve the goal of "dual carbon".