News Release
13
04Month
2023
Revenue of RMB141.5 billion demonstrated steady and resilient operation of CIMC
On the evening of March 28, CIMC released its 2022 annual results report. According to the report, CIMC recorded an annual revenue of approximately RMB 141.5 billion and net profit of RMB 4.6 billion. Although the revenue for 2022 was lower than that for 2021, which was a record high, it is still better than the level of 2020 and before, remaining at a high level and demonstrating strong operational resilience of CIMC.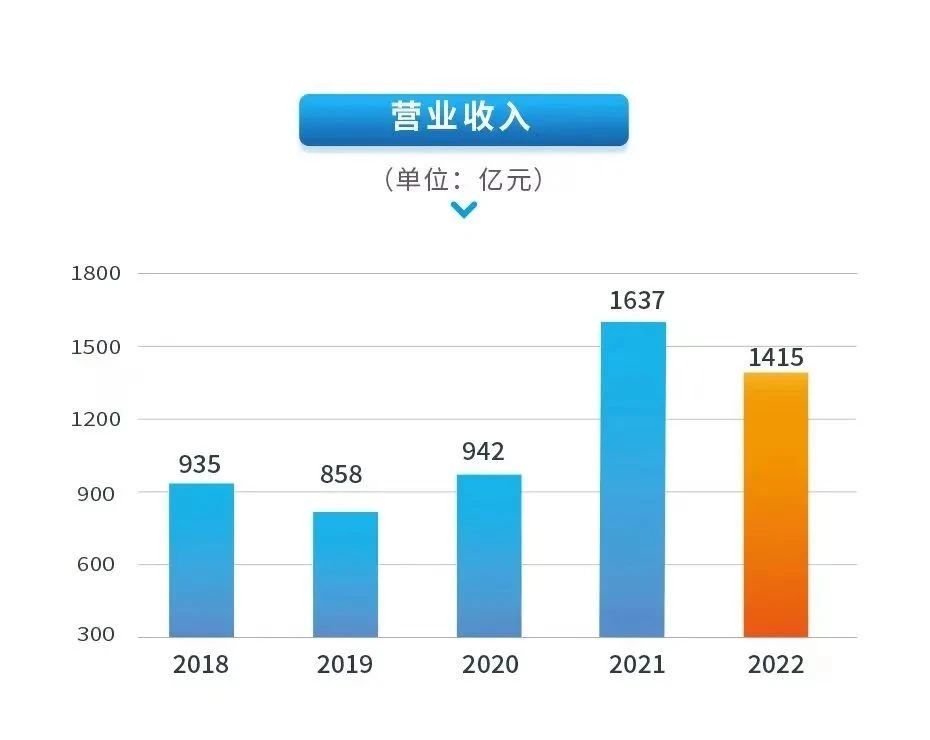 Thanks to the rising price in the container shipping market in 2021, CIMC registered outstanding performance, with revenue and net profit reaching the highest level in the same period. In 2022, facing the complex and changing situation and many risks and challenges, CIMC actively overcame the unfavorable factors in many aspects, continuously consolidated its advantages in equipment manufacturing in logistics and energy industry, and increased the investment in new energy segment to diversify its businesses. Most of the principal businesses showed better growth or stable development trend. Thanks to the support from shareholders and customers and the joint efforts of all employees, CIMC has delivered a hard-earned achievement.
Promoting the strategy of "steady operation and quality growth" with stable and improving key indicators
The report shows that in 2022, the CIMC container segment achieved revenue of RMB45.711 billion and net profit of RMB5.258 billion. The vehicle segment achieved revenue of RMB23.621 billion and net profit of RMB1.114 billion, up 12.75% year-on-year. The energy chemical and food equipment segment achieved revenue of RMB21.250 billion, up 8.82% year-on-year, and net profit of RMB1.042 billion, up 17.74% year-on-year. TianDa Holdings, which is mainly engaged in the airport and logistics equipment and fire and rescue equipment business, achieved revenue of RMB 6.672 billion. Revenue of RMB29.346 billion was registered in the logistics service segment, RMB 4.849 billion in recycled loads and RMB 5.771 billion in the offshore engineering segment.
Based on last year's results, CIMC has proposed a full-year dividend of RMB0.18 (including tax) per share in cash to shareholders, pending consideration at the AGM.
In the past year, CIMC achieved steady progress in each business segment under the guidance of the strategy of "steady operation and quality growth". It maintained a good level of ROE and solvency, and continued to reduce the debt ratio, and maintained steady operation, further consolidating its new business pattern characterized by high-quality development.
In 2022, CIMC was named "China's Most Admired Companies 2022" by Fortune, and ranked 84th in the Fortune China 500 in 2022, 35 places higher than the previous year. In the year, CIMC focused its efforts on the manufacture industry to seek self-reliance and self-improvement through technological innovations. It pursued development around the four strategic emerging directions of "cold chain, clean energy, lucid waters and lush mountains, and rural revitalization" so that equipment manufacturing is deeply integrated with services, and outstanding achievements are made in green products, intelligent manufacturing, digital intelligence driving, asset operation and after-market operation and maintenance.
Relying on digital intelligence to add new pacesetter of quality development with manufacturing segment as the base
Equipment manufacturing capability is the foundation of CIMC. In the past 40 years, CIMC has been marching on the journey of making the world know and respect "Made in CIMC" and "Made in China", and continuously consolidating its core advantages as the leader in various segments of manufacturing industry to showcase its industry leadership.
In the context of the new round of digital economic growth such as mobile interconnectivity, CIMC has also been accelerating its efforts to improve digitalization and IT application transformation to add new pacesetters of high development of manufacturing industry with digital intelligence empowerment.
In 2022, several segments contributed to growth of CIMC's container business. While maintaining the first place in global sales of traditional and emerging businesses, CIMC continues to lead the green upgrade of container industry through "digital workshop" and "future factory" in the manufacturing process. Up to now, all its dry container and cold container production lines have been upgraded and renewed from oil-based paint to water-based paint.
In the land vehicle segment, CIMC maintained its historical performance as it is the top seller of semi-trailers in the world and ranks among top sellers in the domestic special-purpose vehicle market. The effectiveness of the "Lighthouse Manufacturing Network" has been continuously released.
For the energy, chemical and liquid food segment, CIMC has achieved stable growth in three sub-segments: "energy equipment, chemical equipment and liquid food equipment". In the international market, CIMC joined hands with Maersk and other green business partners to expand the green methanol fuel market; and in the domestic market, CIMC provided ship owners with a package solution for equipment and service for converting ship fuels from oil to gas, marking that preliminary arrangements of CIMC for natural gas industry on water are put in place.
In 2022, CIMC achieved significant progress in the strategic transformation of its offshore engineering business. According to the report, CIMC actively seized the opportunity of offshore oil and gas equipment and clean energy, and the volume of new orders signed and orders in hand significantly increased by 77% and 122% respectively year-on-year. CIMC Raffles was granted the FPSO EPC qualification and the title of the best supplier by Petrobras, demonstrating that CIMC Raffles is recognized by mainstream customers and that it ranks among the top international offshore engineering enterprises.
When it comes to the airport and logistics, fire and rescue business, CIMC further consolidated its leading edge in airport equipment and officially delivered Asia's first driverless boarding bridge for commissioning, promoting the intelligent revolution of China's airports.
In terms of the recycled load business, CIMC leveraged the opportunity of the vibrant production and sales of new energy vehicles and supplied customized power battery packaging to the power battery industry leader, establishing its position of recycled load manufacturer in the domestic market.
In 2022, the three smart manufacturing scenarios developed by Qingdao CIMC Reefer Container were included into the list of excellent smart manufacturing scenarios for 2022 issued by the Ministry of Industry and Information Technology of China. CIMC put forward the framework of "Digital CIMC" to improve IT applications throughout CIMC by introducing SAP and other world-class partners in a bid to realize the intelligent upgrading of business management system. CIMC was awarded the title of "Industrial Internet Platform Application Leader" in 2021 IDC China, which represents China's top honor in relation to digital transformation in the manufacturing industry.
Innovation accumulates driving force and forward-looking arrangements enable to identify "new segment" of innovation
In 2022, while focusing on its primary business, CIMC took "Pioneering and innovation" as its core value, and it believes that technology is the first productive force, therefore it takes innovative business as the new driving force for its high-quality development. According to the report, under the product strategy of "maintaining the advanced product, strengthening technological innovation and promoting smart manufacturing", CIMC continued to increase investment in R&D, and the R&D expenses grew faster year-on-year. CIMC registered an annual R&D investment of approximately RMB2.520 billion, representing a year-on-year increase of 12.48% and a further increase from 2021.
As of the end of 2022, CIMC had nine national enterprises that are classified as "little giants" and six national manufacturing single champion enterprises (products). CIMC was granted the 23rd China Patent Award for its four patents, namely CIMC Cold Cloud, CIMC Raffles, CIMC Enric and Nantong CIMC Energy. The number of patents granted to CIMC was the highest ever in 2022.
CIMC invests and incubates innovation-oriented enterprises, and it thus embraces new forms of businesses such as environmental sheets, industrial ecological intelligent equipment, intelligent AGV parking, and land-based and marine intelligent fisheries.
In the field of cold chain logistics business, CIMC's cold chain business revenue has maintained a high growth rate, among which the sales and market share of land-based refrigerated trucks in the North American market have increased significantly, and the revenue of sea-based refrigerated containers and medical refrigerated containers has remained stable. CIMC has continued to promote the layout and development of cold chain business, and put active efforts in R&D of a variety of new products suitable for modern agriculture and new energy vehicle scenarios, such as planting container, integrated container for refrigeration and thermal insulation equipment, new energy refrigerated containers and aviation container. In the field of cold chain service, the food cold chain has reached the goal of being the industry leader in two-way cold chain logistics service for import and export between China and Southeast Asia.
In the field of energy storage technology business, benefiting from the growth of electrochemical energy storage market scale, CIMC's container energy storage business continued to maintain rapid development in 2022, with record-high revenue, rising added values of products and brand effects. In terms of energy sector, the Group develops its energy storage business in line with the national new energy strategy, therefore it focuses on energy storage and new energy and other equipment applications. By deepening cooperation with top industry players, strengthening the independent research and development capability and technological innovation, the Group has made important breakthroughs in terms of power generation, grid and user, and it has also improved the degree of integration.
For the field of modular construction business, CIMC develops the business by putting customers into central place, taking technology as guidance, and relying on innovation as driver. In 2022, CIMC provided customers with one-stop and diversified integrated solutions for industrialized finished buildings, which involved consulting, design, manufacturing, construction and delivery.
In terms of the basic strategy of global operation, CIMC is more convinced of the leadership role of "domestic circulation" strategy. In this regard, CIMC signed strategic cooperation agreements with 15 external partners such as ZTE, Jingdong, and XCMG, indicating that CIMC is expanding its circle of partners. CIMC actively expands domestic business, and it is negotiating more than 100 strategic emerging projects such as cold chain, clean energy, green water and green mountain, and rural revitalization. During the period, the share of domestic revenue steadily increased to 51.5%.
CIMC integrates the advantageous resources of each segment, captures the possible opportunity points in the industry chain and competence circle, strengthens technological innovation and product innovation, and shapes new competitive advantages of each business with technological innovation to make breakthroughs.
Deepen energy revolution by transformation towards green development and embracing the new energy
In terms of green transformation, CIMC's businesses mainly focus on "new materials, new technologies and new processes" for research and development and transformation of results.
In 2022, CIMC Container segment released the container powder coating technology for the first time and continued to explore how to manufacture containers in green manner. The year 2022 also witnessed the first application of the thermoplastic composite materials independently developed by the container segment in many fields such as containers, oil pipelines, auto parts, new energy batteries, green building materials, communication equipment and high-speed trains. At the same time, CIMC Container has integrated its resources to strengthen the research and development of technology and product innovation in the field of new energy integration equipment, and has completed a number of representative large-scale energy storage projects for a shared energy future.
CIMC Vehicles actively develops and promotes new-energy-powered and lightweight green products. It has developed a series of safe and energy-saving products such as rechargeable new energy concrete mixer, KOGEL-9.6m lightweight refrigerator truck, CIMC·Geely Farizon Xingzhi 4.2m steel flat compartment (pure electric model).
Around the green transformation, CIMC also actively explores the application and expansion of developing clean energy business. In the revolution of replacing fossil energy with green energy, CIMC has always been ambitious in the field of new energy, and staying alert to changes in technology routes by making all-round arrangements of key equipment such as hydrogen energy, offshore photovoltaic, offshore wind power and energy storage.
In the onshore field, CIMC Enric provides dozens of sets of hydrogen storage and refueling equipment for the Beijing Winter Olympics, which helped the Beijing Winter Olympics achieve the goal of "carbon neutrality". Enric successfully developed the first 40-foot liquid helium tank in China, which filled the gap of liquid helium storage and transportation products in China. The self-developed small LPG (commercial propane) vehicle tanker with liquid discharge pump passed the "three new" evaluation in China, indicating that Enric has made technology preparations for rolling out the construction of rural micro-pipeline network and the blue ocean market of transmission of gas to the rural areas.
In the water sector, CIMC Wetrans, CIMC Enric and other business segments have joined hands with Zhaoqing City to vigorously develop "Gasification of Xijiang River" program. The first batch of LNG-powered cement tankers were officially delivered and launched, making contributions to comprehensive change in the way of bulk cement transportation and making the shipping industry in the Pearl River and Xijiang River basins more environmentally friendly and efficient. The self-developed and the world's largest LNG transport and bunkering vessel with a capacity of 20,000m3, and China's first ammonia fuel bunkering vessel stimulate a flurry of decarbonization in the world's water transport sector. CIMC Raffles has vigorously explored the development of offshore wind power energy equipment industry, independently built the "3060" series of the world's largest and latest generation wind power installation vessels and 30-meter offshore wind power operation and maintenance vessels. That catalyzes implementation of the offshore clean energy strategy, thus promoting the sustainable development of the offshore wind power industry. Based on those, CIMC Raffles is committed to the sustainable development of the offshore wind power industry and to becoming a "Green Practitioner".
Industrial assistance speeds up rural revitalization
Promoting rural revitalization is the responsibility given to enterprises by the Party and our country, and it is also the inherent demand of CIMC to fulfill its social responsibility and build a world-class enterprise. In 2022, taking industrial development and rural revitalization as a continuous and permanent undertaking, CIMC injected continuous endogenous driving force for common prosperity, and provided precise and solid assistance through multiple measures. Further, CIMC actively advanced development of local communities. Thanks to the combination of those initiatives, rural revitalization was accelerated with high quality.
On the one hand, CIMC has made further new progress in industrial assistance based on local conditions. CIMC improved the capacity of poor areas for independent development by increasing downstream and upstream employments, thus creating a long-term assistance mechanism. e
CIMC vigorously develops bamboo industry to contribute to local economic benefits. In 2022, CIMC further accelerated its efforts to establish rural revitalization workshops, and 20 new rural revitalization workshops were established in Anhui, Hunan and Fujian. In November 2022, CIMC Bamboo Chain Technology and Yueyang Economic Development Zone signed a cooperation framework agreement to build a new renewable fiber industrial park. The project can also effectively help Yueyang Economic Development Zone to better dispose of reeds in Dongting Lake, and will make positive contributions to the development of China's biodegradable material industry and environmental protection.
On the other hand, CIMC, as the world's leading supplier of logistics equipment and energy equipment, provides high-quality and reliable equipment and services to global customers and society, while also leveraging its professional advantage in equipment to serve national strategies, thus contributing to the modernization of China's agriculture and rural areas.
CIMC Vehicles continues to make efforts in grain trucks, refrigerated trucks and other sub-scenarios, providing efficient and convenient transportation & loading and unloading integrated solutions for grain transport sub-scenarios, while strongly supporting the safe and economic development of the trunk cold chain logistics industry and promoting the supply and sales of agricultural products.
In April 2022, the small LPG vehicle tanker with liquid discharge pump (i.e. "LPG tanker with pump") developed by CIMC Enric became one of the first LPG micro-pipeline network equipment passing the national technical evaluation of "new materials, new technologies and new techniques", filling part of the technical gaps in the field of clean energy in rural areas. Up to now, two LPG tankers with pumps have been delivered to China Gas Group and they have been put into use.
In 2022, CIMC Transpack provided turnover baskets for fresh produce for Yunnan Yunling Fresh Central Processing Center to replace disposable recycling packaging, providing a viable carbon emission reduction logistics solution while reducing costs and increasing efficiency.
CIMC Cold Chain solves the problem of keeping agricultural products fresh during long-distance transportation and helps farmers achieve common prosperity. In July 2022, CIMC Cold Chain established cooperation with Guangxi Supply and Sales E-commerce Co., Ltd. to extend the freshness period of lychee with the innovative equipment technology of mobile cold storage (5~10 days longer than the freshness date under the traditional pre-cooling method), effectively reducing the decay loss of fruits and vegetables by 5~10% during circulation, and facilitating Lingshan County to sell their lychees to a broader market.
CIMC Fishery has also developed a new scenario of "container +" to promote the transformation and upgrading of the traditional aquaculture industry. In March 2022, the first phase of Xinhui CIMC Fishery Technology Demonstration Base was completed, which will drive the surrounding farmers and cooperatives to achieve common prosperity through breeding fry and raw fish.
Looking ahead to 2023: Breaking through the gorge and fighting the rapids, CIMC people set out again
We will break new grounds through well-designed strategy. CIMC clearly put forward its future development vision: "to develop CIMC into a world-class high-quality and respected enterprise", to strengthen and enlarge its logistics and energy equipment industries, to expand strategic new businesses in areas where the market needs, the industry has shortcomings and CIMC has the ability, and to build a business portfolio that is anti-cyclical and enhances profitability. By doing so, CIMC will continue to grow steadily and grow forever.
CIMC will continue to deepen its advantages in integrated logistics and energy equipment manufacturing and services, focus on consolidating its position as an industry leader, and promote the consolidation and improvement of its overall performance in the future. On the one hand, CIMC will continue to consolidate its principal business of equipment manufacturing, integrate upstream and downstream industry chain resources, provide more comprehensive integrated services, and accelerate the transformation and upgrading of green, digital and intelligent products, and build product leadership through technological innovation; and on the other hand, CIMC will adhere to the national development strategy as the guide, seize the historic opportunity of "smart logistics" and "clean energy", and broaden the connotation of the existing advantageous principal business. CIMC will, focusing on its four strategic themes of "cold chain", "clean energy", "green water and green mountain", and "green energy", create core competitiveness of emerging businesses.
It's time for CIMC to embark on the new journey. In 2023, under the strong leadership of the Party, CIMC will continue to study and implement the spirit of the 20th CPC National Congress, and gain insight into and grasp the opportunities for the development of its advantageous business. CIMC will take the Long-Range Objectives Through the Year 2035 as its development guide, actively participate in the 14th National Five-Year Plan, and focus on the new vision of "To develop CIMC into a world-class high-quality and respected enterprise". To do this, CIMC will make unremitting efforts in the three aspects of "becoming stronger, bigger and longer"