News Release
06
09Month
2017
CIMC and SAP partner strategically to head towards the future of intelligent manufacturing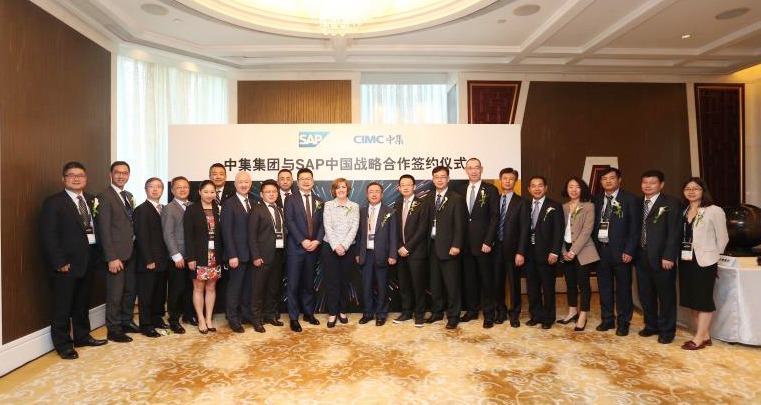 China International Marine Containers (Group) Ltd. (CIMC) and SAP (China) Co., Ltd. (SAP) signed the strategic cooperation agreement on the afternoon of September 6. Previously, the two sides had entered into the cooperation agreement on S/4 HANA solutions; this time, CIMC and SAP decide to take their cooperation to a deeper level.
CIMC is a world-leading logistics, energy equipment and service supplier. Since 1990s, the manufacturing level and sales volume of its containers, vehicles, energy and chemical storage equipment, liquid food equipment, offshore engineering equipment, airport facilities, automatic logistics equipment and automatic parking system are in the leading positions across the world or in China. SAP, a company in the world's top 500, is a world-famous enterprise management solution supplier. It is also known as the management master behind the world's top 500 since it serves 80% of the world's top 500. CIMC and SAP will work together to conduct researches on intelligent manufacturing, Industry 4.0 and the automatic handling system of logistics equipment and explore more cooperation possibilities.
According to Zeng Han, Director of CIMC's Financial Informatization Decision Committee and General Manager of Financial Management Department, by working together with SAP, CIMC hopes to establish a uniform all-value-chain management informatization platform within the Group, connects the Group's financial management requirements with the business processes such as the research, production, provision and sales of different segments and member companies, so as to avoid manual data mining, eliminate information isolated islands, and provide a high-quality and highly efficient data-analyzing platform favorable for the decision-making of managers. Ultimately, it will be a "management cockpit" with abundant data at the top decision-making level, and the real-time, accurate, authentic, transparent and efficient data will be easily available and accessible to top-level managers.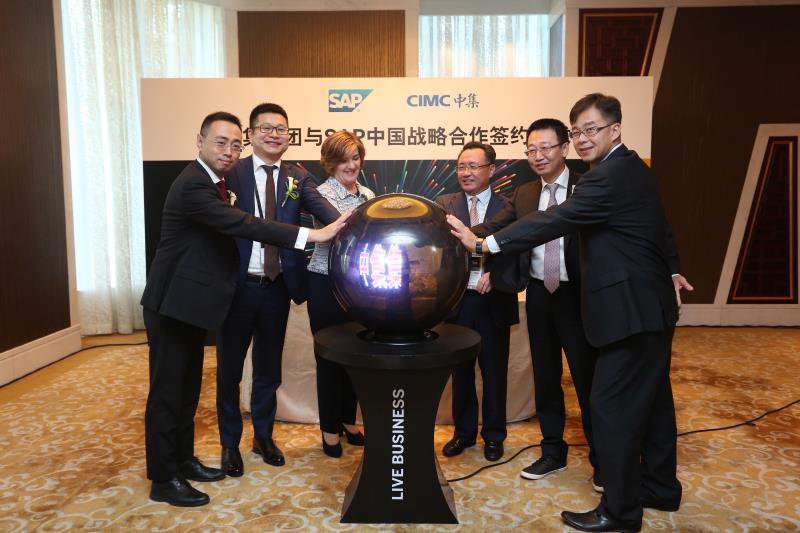 Zeng Han also noted that the S/4HANA system introduced from SAP has built a "main road" for CIMC's informatization management, on which the information from different business segments can be exchanged in an interactive and real-time manner, and from which different business segments can establish their own subsystems, such as the intelligent production and manufacturing system for plants, technique and module design system, and project EPC management system. These subsystems can seamlessly connect with the "main road" - S/4HANA system, and improve the management ability of the Group and enhance and extend the independent and individualized operating ability of different business segments.
CIMC has been taking the manufacturing business as its core. In the context of digital economic growth featuring the upgrading and transformation of manufacturing businesses and the emergence and popularity of mobile interconnection, CIMC and SAP set off on the journey of strategic cooperation. SAP will help CIMC with its informatization construction, and enable CIMC to promote the upgrading of intelligent manufacturing and services, realize the intelligent upgrading of business management systems, and accelerate the digital transformation. CIMC is pleased with the cooperation with SAP, and looking forward to working more with other world leading companies
CIMC's Vice President Gao Xiang commented that "SAP is a world-leading business partner that we've found connections and ties with us during our digital transformation and exploration of intelligent manufacturing". He believed that the cooperation will go to deeper levels and help with CIMC's transformation, upgrading and quality-based business growth, and hoped that the cooperation will help CIMC lead the transformation of manufacturing methods, shape new industrial patterns and business models, maintain the leading position on the tide of industrialization, informatization and intelligentization, and become an excellent model of "Made in China 2025".