News Release
09
07Month
2020
CIMC Raffles Launches Asia's Biggest Ro-Ro Ship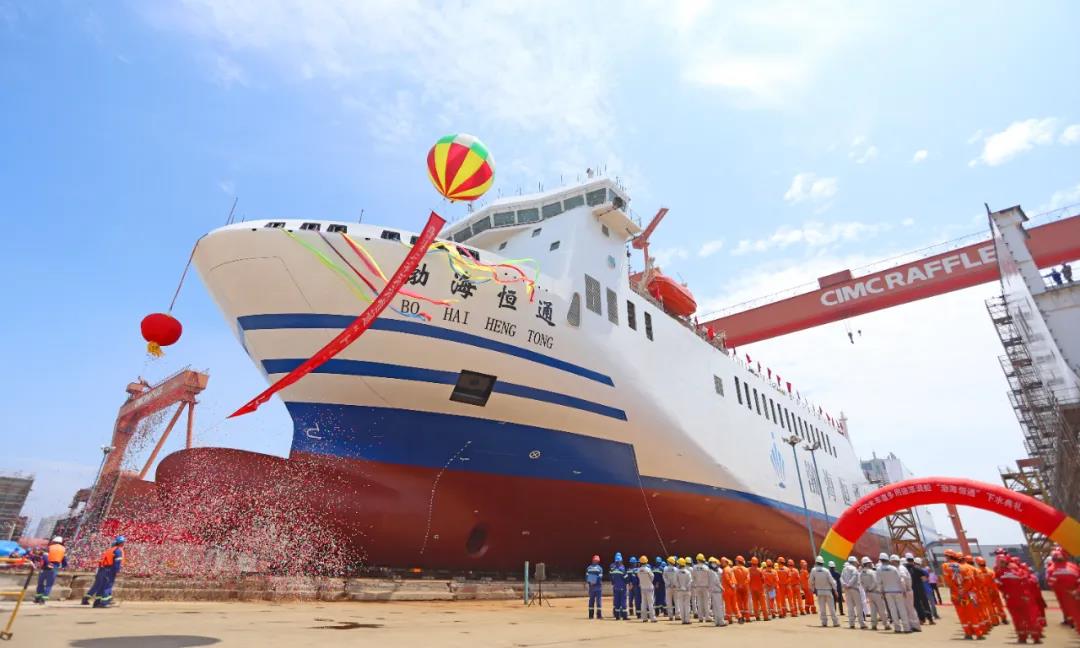 On the morning of June 30, 2020, "Bohai Hengtong", the 2700-meter-lane multi-purpose ro-ro ship built by CIMC Raffles Offshore Engineering Pte Ltd. (hereinafter referred to as "CIMC Raffles") for Bohai Hengtong Ferry Co., Ltd. was successfully launched in Longkou Factory of CIMC Raffles. Representatives from Longkou Municipal Government, Bohai Ferry, Hengtong Logistics, Longkou Port, China Classification Society and CIMC Raffles attended the launching ceremony.
With a 15.4-meter-high upper deck, the 189.9-meter-long "Bohai Hengtong" has a molded breadth of 26.4 meters; it has a 2700m lane with a width of 3 meters and a three-storey vehicle compartment. The design draft is 6 meters, the maximum endurance is up to 5000 nautical miles, and the service speed is 17 knots (about 31.5 km/h). It is currently the largest multi-purpose ro-ro ship in Asia. The ship is a large aft-engined ro-ro transport ship with double engines and double propellers. Its propulsion unit is composed of two marine medium-speed diesel engines, which respectively drive variable pitch propellers through reduction gear boxes and transmission shaft systems. It is a modern energy-saving and environment-friendly multi-purpose ro-ro ship for carrying various trucks, cars and containers. The ship is equipped with the bow thrust, fin stabilizer and anti-heeling device. The three decks are complete decks. The bow and stern are equipped with bow springboard, stern straight springboard, stern inclined springboard, ramp and lifting platform. The engine room facilities are international brands and is equipped with 2 MAN main engines with a maximum power of 4500kW per engine.
The ship is equipped with advanced communication and navigation devices and power facilities; The fin stabilizers and anti-rolling tanks can improve the wind resistance, safety and comfort of the ship. The ship is also specially equipped with a gym to provide the crew with more leisure and entertainment space after work.
The ship will be delivered to Bohai Hengtong Ferry Co., Ltd. jointly established by Bohai Ferry, Hengtong Logistics and Longkou Port. It will operate the ro-ro transportation business in Bohai Bay and domestic coastal areas.
This project is the first one in the new energy field of CIMC Raffles ro-ro ship. In order to achieve high-quality delivery of the project, CIMC Raffles has invested the best technical strength and management team, and has established the first ro-ro ship production line with the support of governments at all levels and relevant departments, providing a strong guarantee for the construction of the project.