News Release
09
01Month
2021
A Pile-Inserting Rescue and Salvage Engineering Ship Built by CIMC Raffles Launched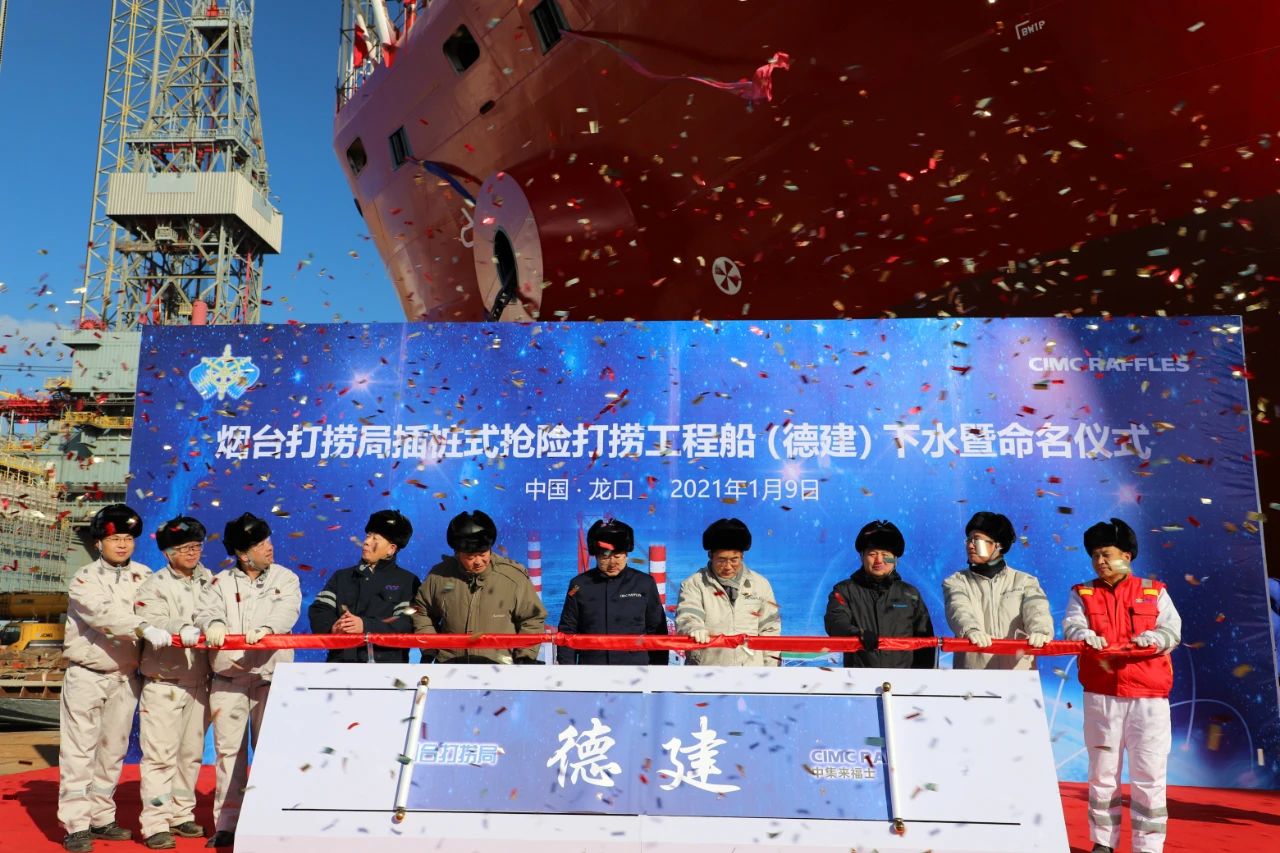 On January 9, CIMC Raffles held a launching and naming ceremony at Longkou Factory for the pile-inserting rescue and salvage engineering ship built by Yantai Salvage Bureau of the Ministry of Transport. The ship, named "De Jian", is another important equipment used for rapid emergency salvage and wind power installation in the coastal waters of northern China. Leaders of Longkou Municipal Government, Yantai Salvage Bureau, China Classification Society, CIMC Raffles and relevant units attended the ceremony.
Independently developed and designed by our country, the "De Jian" was 132.1 m long, 41.3 m wide, and 9 m deep. It is equipped with four 90 m long cylindrical legs and the hydraulic bolt-type lifting system. The maximum operating water depth is 50 m and the variable load is 5,000 t. It has the capability of self-lifting and self-propelling. The stern propulsion system consists of 3 sets of pod-type full-rotation propellers and the bow 3 sets of pipeline-type lateral propellers. With DP-2 dynamic positioning capability, the ship has an operation deck of 2,800 m2 and is equipped with a 1,200 t pile-winding heavy crane. The design speed is 10 knots, the self-sustaining force is 20 days, and the endurance is 3,600 nautical miles. It can be applied to navigation in unlimited navigation areas. It has a personnel quota of 220 and is classified by the China Classification Society.
The ship has the support functions of lifting, transportation, storage and replenishment for rescue and salvage operations. It can be used for equipment lifting, overall salvage of small sunken ships, auxiliary salvage of large sunken ships, sunken ship cargo unloading, tank oil unloading and life support of on-site operators on the salvage operation site. It can also be used for fan transportation and installation in offshore wind farms, taking into account platform maintenance, life support and other work.
This project is a new breakthrough based on years of friendly cooperation between Yantai Salvage Bureau and CIMC Raffles. It has strengthened the maritime rescue and salvage capability in the northern sea area of China, improved the efficiency of emergency rescue and salvage, and effectively promoted the safe development of regional shipping economy. At the same time, it can provide equipment support for offshore wind power installation.