News Release
01
01Month
1970
CIMC Intermodal strategically partners with CR-Guangzhou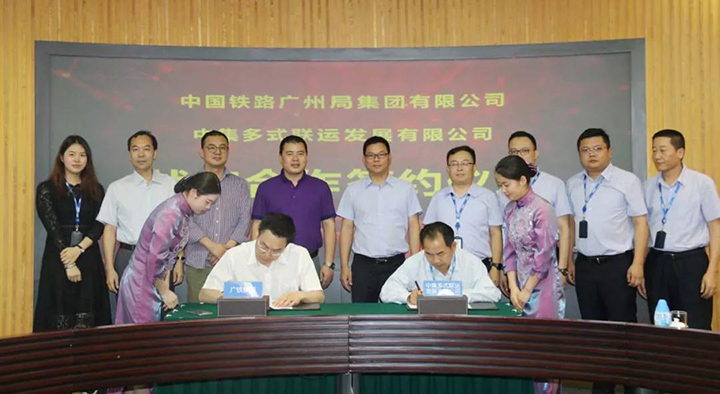 On May 10, Deputy General Manager Guo Ji'an of China Railway Guangzhou Group Co., Ltd CIMC Intermodal Development Co., Ltd (CR-Guangzhou) and his company visited and had business talks with CIMC about the cooperation on the rail container intermodal transport service line. The two sides jointly took their cooperation to a deeper level by entering into a strategic cooperation agreement.
CR-Guangzhou Cargo Transportation Deputy Director Song Haitao, Guangzhou Cargo Transportation Center Director Jiang Yunhua and Deputy Director Li Wenhua, CIMC's Vice President Huang Tianhua, and General Manager of CIMC Intermodal Development Co., Ltd Qiu Chunyou attended the agreement signing ceremony. This was another strategic cooperation agreement CIMC Intermodal entered into with an important business partner after it and BaoSteel Group signed a strategic cooperation agreement, which was full of significant importance for future business development of the company.
Guo Ji'an thought highly of CIMC's achievements, saying that CIMC is a long-term container business partner for China Railway, and its equipment manufacturing advantages and internationalization and marketization experiences and competence will complement the business growth of China Railway. He was confident in the forthcoming cooperation between the two sides and guaranteed that CR-Guangzhou will provide enormous support for CIMC Intermodal to develop its business in the rail container transport field, noting that the two sides will be able to create a service line system that benefits the entire country and the regions and countries within the "One Belt One Road" Initiative framework and effectively improve the logistics efficiency and benefits in the Guangdong-Hong Kong-Macao Greater Bay Area.
The agreement with CR-Guangzhou means a great deal for CIMC Intermodal's domestic network expansion and perfection, because this has effectively expanded the company's two-way rail container service line network in South China to the northwest, Central China, East China and southwest of China and enabled the company to secure a firm foothold in the seal-rail transport route.
In next 3 to 5 years, CIMC Intermodal will establish a leading intermodal transport platform that embraces CIMC Characteristics and takes the rail transportation as the core, construct an intermodal transport network that covers the entire country and connects with the rest of world via the major nods at the OBOR countries and regions, provide door-to-door and one-ticket-for-all intermodal transport service for clients in China and major economies, grow into an industrial leader in the innovation of new business models and promotion of new equipment in the industry, promote the wider application of equipment made by CIMC in the industry, and create an ecological intermodal transport circle featuring the win of all parties.