News Release
01
01Month
1970
CIMC introduces Country Garden as a strategic investor of Industry & City Development business by 930 million RMB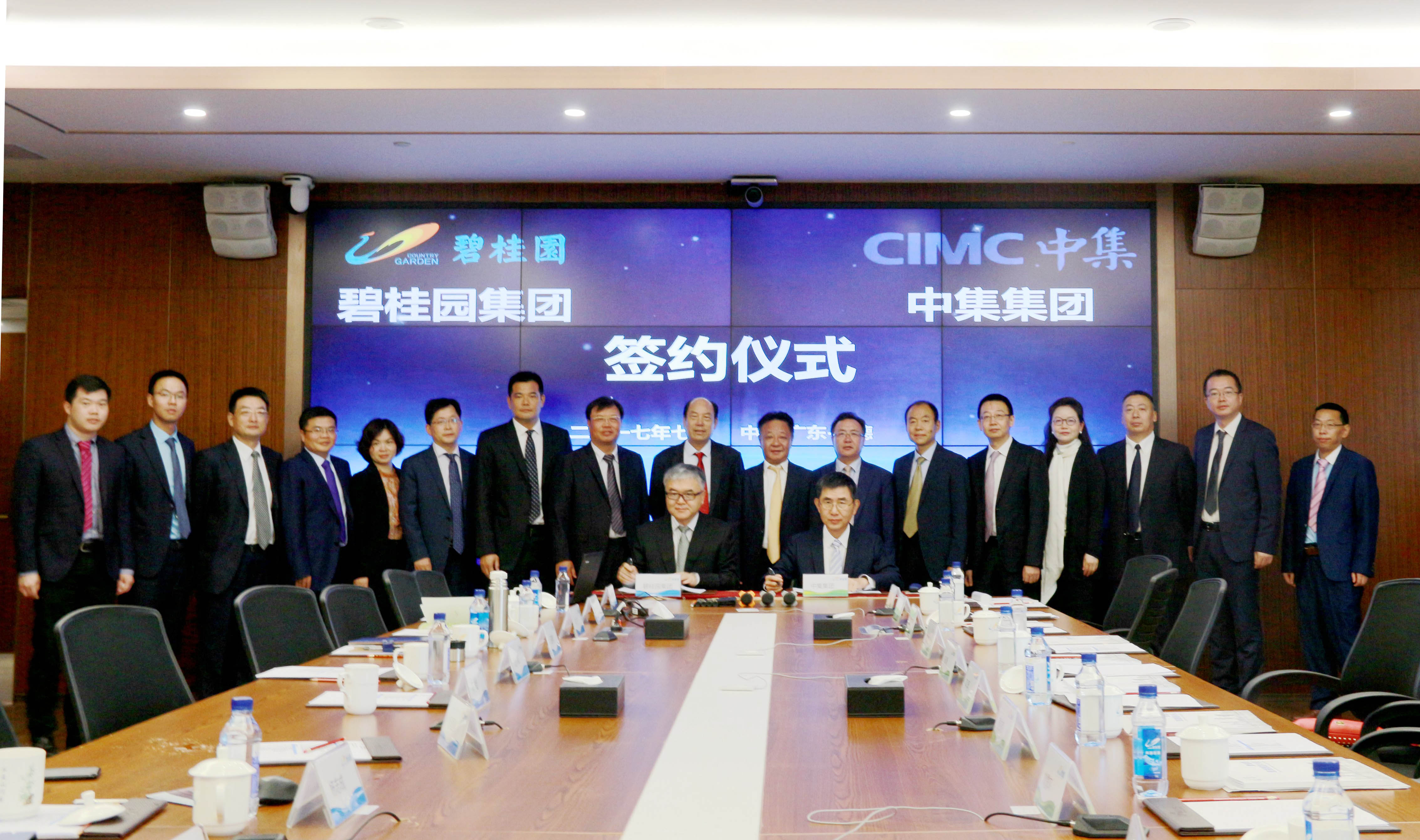 On July 17, with the witness of CIMC CEO & President Mai Boliang and Country Garden Group chairman Yang Guoqiang, the Industry & City Development business segment of CIMC signed a capital increment agreement to introduce Country Garden as a strategic investor by about 930 million RMB. CIMC Group announced that the introduction of strategic investors with industrial synergy and strong market influence is to enhance the company's comprehensive development ability and achieve the sustainable development of CIMC Industry & City Development business segment.
It is reported that CIMC has held 82% shares of Shenzhen CIMC Industry & City
Development Co., Ltd. (hereinafter referred to as CIMC I&C Development) by its wholly-owned subsidiary CIMC Shenfa Construction Co., Ltd. The original shareholders of CIMC I&C Development also include Shenzhen Oriental Tianyu Investment Development Co., Ltd. and Changan International Trust Co., Ltd.. Those original shareholders signed the capital increment agreement with CIMC I&C Development and Country Garden, which Country Garden replenish 926,322,300 RMB to CIMC I&C Development to hold its 25% shares.
Last September, CIMC Group signed a strategic cooperation agreement with Country Garden, which will collaborate with each other in a variety of areas. And the signing of this agreement means that the cooperation between the two companies has taken the most significant step. Country Garden has developed quickly in recent years with the sales of nearly RMB300 billion in the first half year of 2017, which takes it to the top of real estate sales. CIMC I&C Development was established in 1998, one of the eight business segments of CIMC, which has evolved into an integrated development group of industrial parks, commercial and residential properties. Its business covers industrial park development and operation, traditional real estate development, commercial operation, property management services and so on, with projects located in nearly 10 cities in Pearl River Delta, Yangtze River Delta and Circum-Bohai Sea Region. During the months of friendly negotiation, both sides all highly recognized the simple, pragmatic and efficient culture that is similarly upheld by the two companies, and expressed the optimism about the synergistic effects in real estate resource and development capacity in the future.
Mai BoLiang has every confidence in this long-term cooperation with Country Garden, saying that Country Garden is an admirable enterprise and he highly appreciated the mechanism, strength and ability of Country Garden. Mr. Mai said that Country Garden attracts and retains a large number of talents by its excellent mechanism, and enables talents to share the achievements, which happen to coincide with the 'common cause' culture of CIMC. Cooperation with Country Garden will inject new vitality to the development and transformation of CIMC in the future. Yang Guoqiang also felt excited to jointly develop career with CIMC, saying that CIMC has ranked the top in the world in many fields and is a respected enterprise. There is a wide space for both sides to learn from each other and cooperate in the future. The two entrepreneurs all expressed their commitment to jointly striving for a better future for the whole society.
Besides, Country Garden President Mo Bin, CIMC Vice President Gao Xiang and more than 20 people whom in charge of various business areas in the two companies, were also present on the signing ceremony.